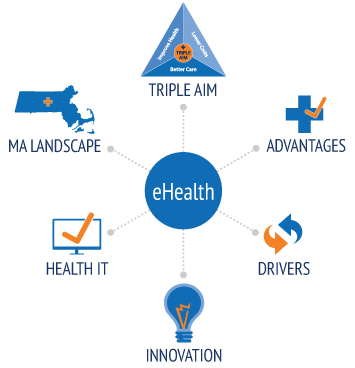 eHealth involves the delivery of health care supported by electronic systems, processes and communications, such as Electronic Health Record (EHR) systems, Health Information Exchange (HIE), knowledge management, decision-making support, mobile health applications and patient portals.
The foundation for eHealth is Health Information Technology (Health IT),  the professional discipline that designs, develops, and supports electronic systems and practices to securely manage information within the healthcare system.
Health IT enables care providers to securely store, analyze, share and transfer their patients' health information.  These features improve access to information, facilitate decision making, and enhance collaboration among providers.
eHealth, and in particular Health IT, is anticipated to significantly advance the quality, accuracy, efficiency, effectiveness and availability of health care and reduce the cost.
Health IT is rapidly advancing throughout the healthcare industry thanks to new innovations and the advantages the technologies offer.
In the pursuit of the Triple Aim to improve healthcare and lower cost, federal and state government agencies are driving the advancement and Meaningful Use of EHR and HIE through Health IT legislation. The Commonwealth of Massachusetts is a leader in assisting providers in adopting eHealth, and created the Mass HIway to provide a statewide HIE solution.
MeHI assists healthcare providers and care delivery organizations in the adoption, Meaningful Use, and innovation of Health IT and other eHealth technologies, so they can comply with the regulations and build on the advantages of eHealth. Learn more about how we assist through our support programs.
Note: MeHI's presentations and webinar recordings pertaining to EHR, HIE, and Meaningful Use are no longer presented on this website. You can find similar information on the related topics in this education menu, the eHealth Toolkits, and an archive copy of the Meaningful Use Toolkit. You can also visit the Mass HIway website to find HIE webinar recordings.