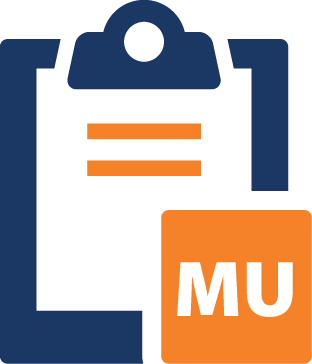 Meaningful Use for Medicaid and MEDICARE has ended, and has been replaced with MACRA MIPS for Medicare. The information below is provided for historical purposes.
By prioritizing the effective use of Electronic Health Records (EHR) to improve the quality and efficiency of health care, the Health Information Technology for Economic and Clinical Health (HITECH) Act of 2009 made it clear that the adoption of EHRs was not an end unto itself.
The Act established Meaningful Use (MU) of interoperable EHRs with the ability of electronic Health Information Exchange (HIE) as a critical national goal. Accordingly, CMS, the Centers for Medicare & Medicaid Services, manages the rules and definitions for Meaningful Use and enables and enforces compliance.
Components of Meaningful Use
The HITECH Act specified three main components of Meaningful Use:
1.  Use of Certified EHR Technology (CEHRT) in a meaningful manner;
2.  Use of Health Information Exchange (HIE) to improve quality of care; and 
3.  Use of CEHRT to submit clinical quality and other measures.
Stages of Meaningful Use
Meaningful Use was divided into three progressive stages. The stages were designed to focus on:
Stage 1: Data capture and sharing
Stage 2: Advance clinical processes
Stage 3: Improved outcomes
Each stage consisted of specific measurable objectives, as well as a set of Clinical Quality Measures that generally aligned with clinical quality objectives used in other CMS programs, such as the Physician Quality Reporting System (PQRS) and Macra MIPS.
Stage 1:
Meaningful use criteria focus on:
Stage 2 / Modified Stage 2:
Meaningful use criteria focus on:
Stage 3:
Meaningful use criteria focus on:
Electronically capturing health information in a standardized format
More rigorous health information exchange (HIE)
Improving quality, safety, and efficiency, leading to improved health outcomes
Using that information to track key clinical conditions
Increased requirements for e-prescribing and incorporating lab results
Decision support for national high-priority conditions
Communicating that information for care coordination processes
Electronic transmission of patient care summaries across multiple settings
Patient access to self-management tools
Initiating the reporting of clinical quality measures and public health information
More patient-controlled data
Access to comprehensive patient data through patient-centered HIE
Using information to engage patients and their families in their care
 
Improving population health
MU Stage 3 Objectives
The ultimate goal of the EHR Incentive Programs was for participants to reach Meaningful Use Stage 3. The Stage 3 objectives promote the electronic recording and exchange of patient data between the clinicians and with their patients, and the advanced use of the EHR capabilities. The Stage 3 objectives include:
1)   Protect Patient Health Information verified through Security Risk Analysis
2)   Electronic Prescribing
3)   Clinical Decision Support
4)   Computerized Provider Order Entry (CPOE)
5)   Patient Electronic Access
Patients can access to their electronic records & get online education about their health conditions
6)   Coordination of Care through Patient Engagement
Patients access their electronic records and electronically provide their health data to the providers
Provider and patient use secure messaging to communicate
7)   Health Information Exchange
Exchange information between providers and with patients
Clinical information reconciliation of the shared data
8)   Public Health Reporting
Medicare and Medicaid EHR Incentive Programs
CMS created the Medicare and Medicaid EHR Incentive Programs to support healthcare providers in the implementation of Meaningful Use. Eligible Professionals (EPs) and Eligible Hospitals (EHs) were able to earn incentives for the adoption and Meaningful Use of CEHRT. The programs required the participants to implement Meaningful Use in a staged approach. Both programs have ended, and the Medicare program was replaced with MACRA MIPS.
Future of Meaningful Use versus MACRA MIPS
Meaningful Use Stage 3 was not the final goal of the government's efforts to advance Health IT. Most of the Stage 3 objectives have transferred into the Advancing Care Information (ACI) performance category of the MACRA MIPS act. Like MU, the ACI category is focused on advancing Health IT to improve the quality of care at lower cost.