Overview
Massachusetts Health IT Use and Attitudes
The Massachusetts eHealth Institute at MassTech presents the "2014 MeHI Provider and Consumer Health IT Research Study". Sponsored by MeHI and conducted by the respected health industry research firm Market Decisions LLC, this study is designed to provide comprehensive information on the use, needs and attitudes towards Health IT among Massachusetts healthcare providers and consumers, and to identify key drivers for eHealth adoption across the Commonwealth.
MeHI is leading the state's efforts to further eHealth innovation across the Commonwealth. Central to MeHI's mandate is to advance the dissemination of health information technology throughout Massachusetts, including the deployment of electronic health record (EHR) systems in all healthcare provider settings and networking of health records and data through the statewide health information highway (Mass HIway).
Following is a snapshot of the 2014 MeHI Provider and Consumer Health IT Research Study goals and its audience participation.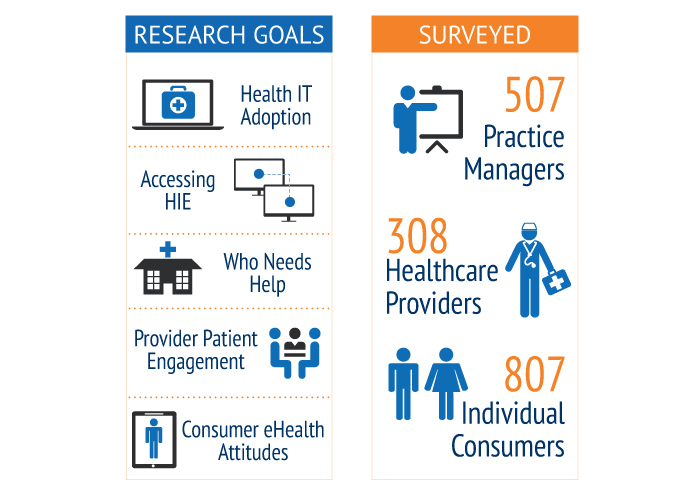 Key Findings
Massachusetts Progressing Well – More Work To Do
The key findings from the "2014 MeHI Provider and Consumer Health IT Survey" are as follows: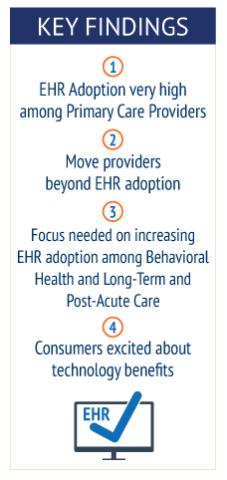 The adoption of Health Information Technology among Massachusetts primary care and specialty care providers is progressing well, as these groups boast over a 90 percent EHR adoption rate;
Health information exchange is on the radar of a clear majority of providers, with 26 percent reporting they are participating in an HIE and 68 percent of those not connected are planning to connect, but additional clarity and support for these providers is required;
Focus is needed on increasing EHR adoption in other sectors, particularly behavioral health and long-term and post-acute care organizations, which show a lower adoption rate of 55 percent; and
Consumers are excited about healthcare technology and have an overwhelmingly positive attitude toward health IT adoption and use.  Providers can harness the value of this by engaging patients and encouraging them to use this information to become more involved in their own care and make decisions that promote their health.
Data from this research will also help MeHI's efforts in targeting those providers who need assistance meeting the legislatively-mandated requirements of Chapter 224, which include the following key dates:
January 1, 2015 – Demonstrated proficiency in health IT will be a requirement for renewal of a physician's license;
January 1, 2017 – All providers are required to fully implement interoperable EHR systems that connect to the Mass HIway.
Safe and secure access to health data can be transformative for individual patients as well as for the Commonwealth, leading to more informed decision-making by consumers, new technology innovations, advanced research and discoveries, and new public health insights.
Reports
Massachusetts Health IT Use and Attitudes
Download "2014 MeHI Provider and Consumer Health IT Research Study"
Below are the "2014 MeHI Provider and Consumer Health IT Research Study" and supporting summaries available for download.
2014 MeHI Provider and Consumer Health IT Research Study (PDF, 48 pages, 858 KB)
2014 MeHI Provider and Consumer Health IT Research Study - Chart Book (PDF, 171 pages, 6.07 MB)
Summary Presentation (PDF, 7 pages)
For additional questions about the study, including methodology, research findings, media questions, or the use of images or graphics, please contact:
Research Methodology & Data Inquiries
Judy Iwanski
Program Manager
617-371-3999, ext. 601
iwanski@masstech.org
Media Inquiries
Brian Noyes
Director of Research & Communications
617-371-3999, ext. 293
noyes@masstech.org